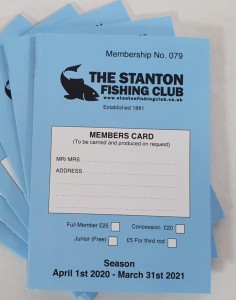 Season 1st April 2020 – March31st 2021
Stanton Fishing Club offers great value for money, membership is open to all individuals, with books being obtainable from local tackle shops.
Membership costs:
£25.00 Adult – Over 16s
£20.00 Concessionary
£25.00 Night Fishing Permit (Chadwicks Only)
Junior Membership is FREE (Under 16's)
Night Fishing: To night fish you require both the Membership book and the Night Fishing Permit This allows you to night fish Chadwicks Pond Only.
Night Fishing Season Permit – ONLY AVAILABLE FROM WALKERS OF TROWELL AND CLUB SECRETARY MICK BURKE.    Night Season Ticket must be permanently attached to page 22 of the Membership book – anyone night fishing without this attached will be removed from the waters.
Memberships can be bought from the following outlets:
Walkers Of Trowell
9-13 Nottingham Rd
Trowell
Nottingham
NG9 3PA
0115 930 1816
www.walkersoftrowell.com
Mill Tackle
74 Mansfield Rd
Langley Mill
Derby
DE75 7AQ
01773 710679
Stapleford Angling
8 Archer Road
Stapleford
Nottingham
NG9 7EP
0115 949 1812
Gerry's of Nottingham
96-100 Radford Boulevard
Radford
Nottingham
NG7 3BN
0115 978 1695
Eastwood Angling Center
91 Nottingham Road
Eastwood
Nottingham
NG16 3GH
01773 710775